Grave 486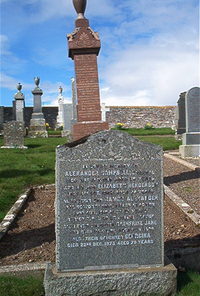 In loving memory of.
Alexander Campbell of Smerral died 31st January 1915 aged 68.
Wife Elizabeth Henderson died 4th October 1943 aged 94.
Son James Alexander Campbell Pte. Seaforth Hdrs. killed in action 22nd August 1917 aged 25 burried SSE of St. Julien France.
Daughter Catherine Jane Campbell died 20th May 1962 aged 70.
Daughter Georgina Campbell died 22nd December 1973 aged 79.