Grave 179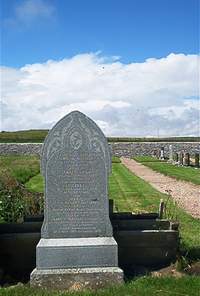 Having a good hope through grace.
James Sutherland merchant of Mid Clyth died 20th September 1884 aged 66.
Wife Janet Gunn died 2nd December 1898 aged 83.
Daughter Elizabeth Sutherland died 21st January 1906 aged 52.
Also.
Jessie Sutherland died 30th June 1907 aged 52.
Husband James Sutherland sub postmaster of Mid Clyth died 29th August 1910 aged 60.
Daughter Jessie Sutherland sub postmistress died 10th November 1970.