Grave 183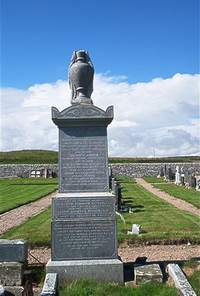 In loving remembrance of.
Peter A Sutherland died 19th September 1873 aged 4.
Brother William A Sutherland died 27th February 1882 aged 22.
Mother Elizabeth Adamson died 22nd April 1900 aged 70.
Also.
Father Alexander Sutherland Elder of Bruan died 6th February 1903 aged 75.
Granddaughter Jessie Sutherland Paton medical student born 25th October 1897 at Holyoke US died 5th March 1924 at Roseleigh House lw.
Daughter Elizabeth Adamson Sutherland died 28th February 1927 aged 53.
Daughter Jessie Adamson Sutherland died at Roseleigh House Latheronwheel 5th May 1934 aged 66.
Son Alexander Sutherland retired draper of Lybster died at 9 West Park Wick 25th September 1935 aged 69.
Also.
Son Donald Sutherland JP died at West Park Wick 14th September 1941 aged 70.
Wife Catherine Gray died 15th March 1961.