Grave 194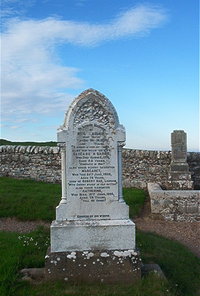 In loving memory of.
Neil Macleod of East Clyth died 19th November 1900 aged 72.
A sinner saved by grace.
Wife Elizabeth Barnie died 2nd March 1912 aged 82.
Complete in Him.
Daughter Margaret Macleod died 24th June 1929 aged 76 wife of Robert Rae of London.
With Christ which is far better.
Daughter Catherine Macleod died 12th June 1933 aged 78.
Till He come.
Erected by his widow.