Grave 221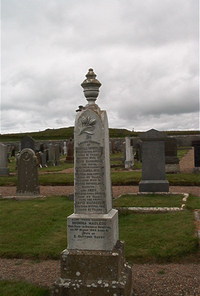 In loving memory of.
Isabella Sutherland died 8th December 1917 aged 51.
Daughter Williamina Mackenzie (Mina) died 22nd June 1931 aged 38 wife of George Sutherland of Ulbster.
Daughter Annie Mackenzie died 5th April 1938 aged 49.
Husband David Mackenzie of Mid Clyth died 19th February 1941 aged 81.
Daughter Hughina Macleod died 1st March 1965 aged 61 wife of E Cliford Davey.