Grave 226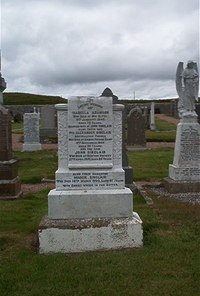 In loving memory of.
Isabella Adamson died at Mid Clyth 9th January 1945 aged 73.
Son Pte Alexander Sinclair of Australian Forces died at Ambon Prison Camp 6th November 1944 aged 39.
Husband John Sinclair died at Newton Swiney 27th April 1957 aged 93.
Daughter Maggie Sinclair died 14th March 1990 aged 91.
With Christ which is far better.