Grave 34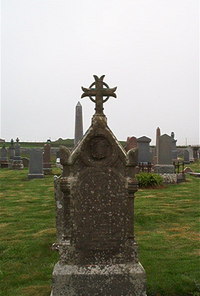 Erected by Donald Gow Lowe Swiney in memory of his daughter.
Helen Polson Lowe died 9th December 1888 aged 30.
Also.
Catherine McKenzie died at Bilbster 2nd October 1921 aged 64.
Dearly loved and sadly missed.
Daughter Mary Helen Lowe died at Halkirk 27th October 1899 aged 12.
Also two daughters and a son who died in infancy.
Husband Peter Lowe died 18th March 1935.