Grave 48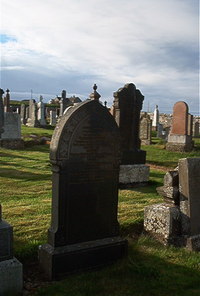 Erected by James Adamson in memory of his beloved wife.
Elizabeth Anderson died at Overtown Mid Clyth 15th June 1903 aged 72.
Son Donald Adamson died 22nd September 1870 aged 15.
Daughter Annie Adamson died 14th September 1894 aged 29.
Son Alexander Adamson died 10th September 1897 aged 31.
Husband James Adamson died 29th October 1907 aged 85.
Blessed are the dead who die in the Lord.