Grave 50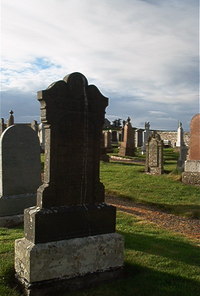 In loving memory of.
Donald Adamson died at Upper Clyth April 1874 aged 70.
Wife Janet Clark died 20th August 1898 aged 82.
Daughter Jane Adamson died 10th November 1871 aged 24.
Son Donald Adamson lost at sea 11th February 1879 aged 21.
Also.
Son William Adamson died 18th December 1900 aged 55 husband of Isabella Clark.
Son William Adamson died 21st September 1907 aged 19.
Who lived in peace and died in unity with Christ.