Grave 52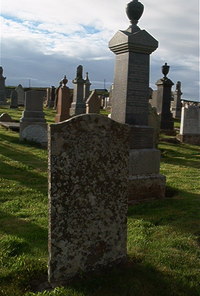 In hope of a glorious resurrection.
Here lies the body of.
John Gunn of Camster died at Boultore 1791 aged 64.
The memory of the just is blessed.
Near this are interred the remains of.
George McKay of Golticlay died January 1824 aged 70.
The righteous shall be in everlasting remembrance.
(On back of stone)
How great how valued once'
Avails thee not'
By whom beloved'
Or of whom begot'
A heap of dust'
Remains alone of thee'
Tis all thou art'
And all the proud shall be.