Grave 58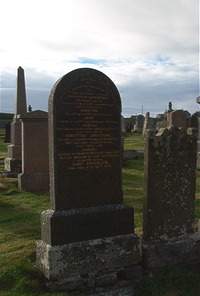 Erected by Robertina Donaldson in memory of her beloved husband.
Farquhar Georgeson Farmer of Occumster died 9th May 1863 aged 34.
Daughter Christina Georgeson died 2nd January 1874 aged 15.
Son John Georgeson drowned at sea 17th January 1883 aged 21.
Wife Robertina Donaldson died at Shantry House Latheronwheel 26th December 1916 aged 83.
Also.
Son James Georgeson died at Shantry House 6th January 1939.
Wife Janet Sutherland died 27th September 1976.