Grave 65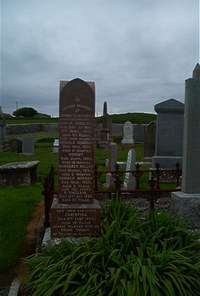 In loving memory of.
Annie B Murray died at Wick 6th April 1931 aged 63.
Son Donald died May 1896 in infancy.
Son Robert died January 1898 in infancy.
Daughter Margaret Miller died March 1899 in infancy.
Son Donald died December 1909 aged 6.
Husband Insp. R Sinclair died 15th October 1933 aged 67.
Daughter Christina Sinclair died 9th February 1969 aged 76 wife of Frank Thorpe of Thornton-Cleveleys.