Grave 76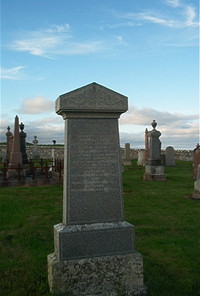 Erected by the family in loving memory of their parents.
John Miller died 9th May 1871 aged 73.
Wife Hellen Clyne died 10th December 1868 aged 72.
Daughter Janet Miller died at London 17th April 1895 aged 59 interred here
Daughter Elizabeth Miller died 11th February 1903 aged 64.
Daughter Jane Miller died 13 October 1905 aged 73.
Daughter Catherine Miller died 26th September 1910 aged 74.