Grave 86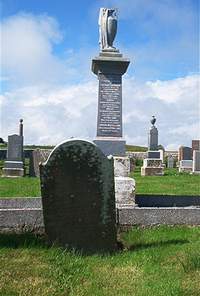 Erected by Catherine Miller in memory of her husband.
George Miller farmer of Watten died 16th May 1865 aged 44.
Son Donald Miller died 22nd June 1861 aged 13.
Son William Miller died 20th November 1872 aged 23.
Wife Catherine Miller died 13th March 1896 aged 74.
Son Donald Miller died 12th December 1891 aged 29.
Son John Miller died 27th May 1928 aged 73.
Son David Miller died 1st June 1928 aged 68.