Grave 91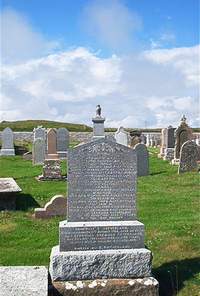 Sacred to the memory of my father.
James Sutherland died July 1906 aged 73.
Wife Janet Manson died March 1874 aged 40.
Daughters Elizabeth, Christine and Jessie died in infancy.
Daughter Elizabeth Sutherland died February 1931 aged 67.
Son James Sutherland died September 1886 aged 16.
Son Magnus Sutherland died March 1910 aged 47.
Son Sinclair M Sutherland died June 1925 aged 56.
Son William M Sutherland died December 1932 aged 60.
Sons Robert and John died in infancy.
Daughter Georgina Sutherland died 28th March 1951 aged 77.
Till the day break.
Archibald E Sutherland died 21st October 1936 aged 48.
Georgina Bremner Sutherland 21st February 1943 aged 65 wife of William M Sutherland.
Erected by G Sutherland.