Grave 97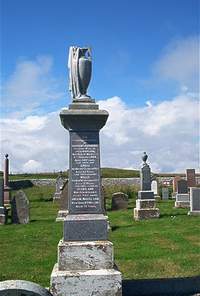 In loving memory of.
Margaret McGreggor died at Mid Clyth 5th December 1906 aged 58.
Husband John Nicolson died 6th December 1923 aged 73.
Son Angus Nicolson died 22nd February 1904 aged 23.
Son Willie Nicolson died 26th September 1907 aged 17.
Daughter Jessie Ann died in infancy.
John Arthur died at Wick 8th November 1948 in infancy son of John and Edith Nicolson.
Also.
John S Nicolson died at Clyth Mains 7th June 1952 aged 72.
Wife Henrietta Sutherland died 8th September 1955 aged 70.
Daughter Annie Budge died 9th December 1916 aged 1.
Margaret William and Robert died in infancy.