Grave 126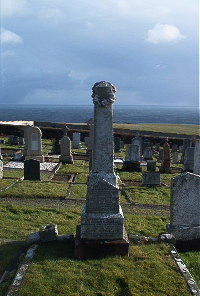 Erected by Alexander McGregor, Grandad, in loving memory of his sons.
James McGregor presumed killed in France 22nd August 1917 aged 34.
Brother William McGregor died of wounds in France 31st October 1918 aged 30.
Both privates in the 8th Seaforth Highlanders.
Brother Alexander McGregor, Private 1/4 Gordon Highlanders presumed killed in France 21st March 1918 aged 23.
Also
Above Alexander McGregor died at Lybster 9th June 1936 aged 83.
Wife Annie Sutherland died at Glasgow 1st April 1951 aged 90.