Grave 173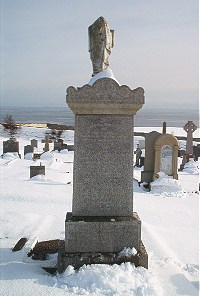 In loving memory of.
Donald Budge died at Westend Lybster 15th April 1938 aged 90.
Wife Amelia Cormack died at Skail Lybster 30th April 1917 aged 60 Interred in the old cemetary.
Son Donald Budge died 22nd June 1924 aged 46 interred in Hillfoot Cemetary Glasgow.
Daughter Margaret Young died 27th October 1926 aged 46 interred in Hanwell Cemetary Westminster.
Peter and Anabella died in infancy.
Daughter Emelia Budge died 8th April 1969 aged 76.
Also.
Son John Budge died 4th June 1964 aged 80.
Daughter Emilia Budge died 4th June 1959 aged 37.
Daughter Elizabeth Budge died 20th May 1966 aged 42.