Grave 179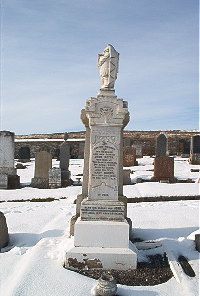 In loving memory of my husband and our father.
John Keith died at The Corr Latheron 3rd April 1939 aged 83.
Wife Mary Munro died 3rd December 1964 aged 95.
At rest.
Son John Keith died in Dunedin New Zealand 16th July 1927 aged 29.
Erected by his widow and family.
Son William Keith died at The Corr 26th April 1958 aged 56.
Dearly loved by all and deeply mourned.