Grave 312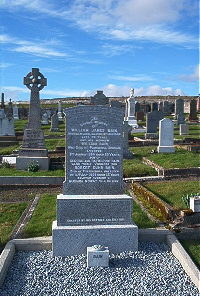 In loving memory of.
William James Bain died at Larel Halkirk 14th July 1946 aged 38.
Also.
Nephew William Bain died at Plover Hill Smerlie Lybster 9th August 1964 aged 25 son of George and Catherine Bain.
Brother Robert Gunn Bain died at Forester Hill Aberdeen 16th July 1969 aged 25 husband of Barbara Mowat of Dale Halkirk.
Erected by his brothers and sisters.