Grave 357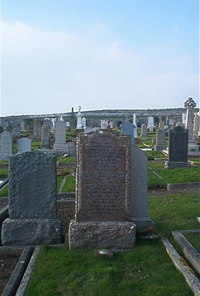 Sacred to the dear memory of.
James Gunn JP subpostmaster Lybster born 25th December 1874 died 5th February 1949.
Daughter Mary died in Perth 3rd July 1964 aged 38 interred in Murie Cemetery Perthshire wife of William Ritchie.
Wife Isabel Matheson died 18th June 1987 aged 88.
Son Patrick M Gunn died at Bristol 13th March 1993.