Grave 398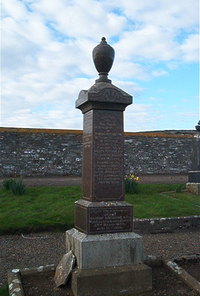 Erected by the family in loving memory of.
Angus McGregor died at Newton Swiney 14th April 1902 aged 73.
Wife Janet Sutherland died 21st June 1912 aged 78.
Blessed are they which are with Christ.
Son Hugh McGregor died at Janetstown 14th March 1924 aged 50.
Grandson James Gordon McGregor RSc died at Glasgow 24th March 1934 aged 21.
Son James G McGregor died at Newton Swiney 8th January 1936 aged 74.
Daughter Helen McGregor died 1st April 1946 aged 77.