Grave 403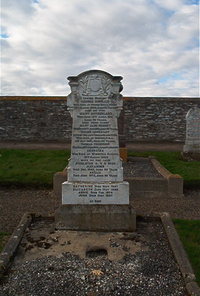 In loving memory of.
George Sinclair died at Shore Road Forse 31st March 1930 aged 75.
Wife Mary Sutherland died 12th April 1931 aged 70.
Also their family.
Mary Jane Hendry died 25th June 1913 aged 25.
Helen Lockhart died at Boston USA 4th May 1923 aged 38 wife of the late Thomas Black Kerr.
Thomas Frederick died 19th June 1901 in infancy.
Amelia died June 1972 aged 86.
Catherine died November 1987.
Elizabeth died May 1989.
Annie died February 1974.
John died October 1997.
Also.
Georgina died at Winipeg Canada 15th March 1960.
Husband Athelstan A V P Rigg Alexander died December 1962 aged 80.
At rest.