Grave 423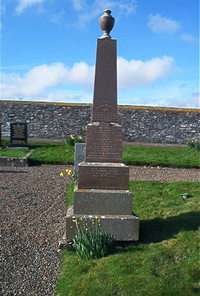 In loving memory of our dear daughter.
Robertina Macdonald died at Lower Achow Swiney 29th April 1903 aged 15.
Brother Corporal Donald Macdonald 11th US Infantry died of wounds at Linburgh Germany 17th August 1918 aged 27.
Father Donald Macdonald died at Skaill Lybster 16th October 1924 aged 64.
Mother Catherine Gunn died at Bruan 20th January 1933 aged 81.
Asleep in Jesus! Blessed sleep.