Grave 438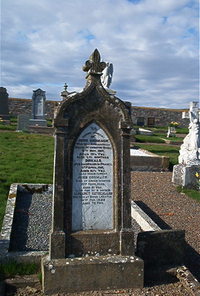 In loving memory of.
John Cormack accidentaly killed at Lybster Mains 8th November 1917 aged 15.
Brother Donald Cormack killed in France 9th April 1917 aged 21.
Father John Cormack died at Upper Lybster 16th September 1929 aged 61.
Mother Margaret Sutherland died at Upper Lybster 14th February 1948 aged 76.
Erected by John Cormack, Upper Lybster and the companions of John.