Grave 455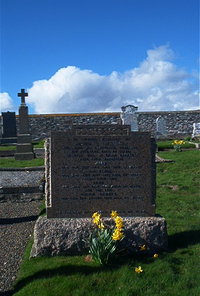 In loving memory of.
Jessie G Mackenzie died at Achvrole Dunbeath 12th June 1948 aged 83.
Husband David Geddes died 27th August 1953 aged 85.
d Jane Geddes died 29th November 1906 aged 19.
d Alice Geddes died 25th September 1919 aged 20.
Son John Geddes died 18th September 1943 50.
To live in hearts we leave behind is not to die.