Grave 463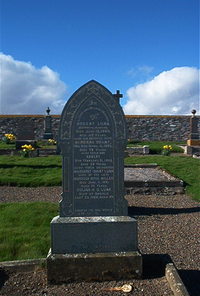 In loving and dearest memory of.
Robert Lunn shepherd of Camster died 16th June 1898 aged 49.
Wife Barbara Grant died 4th April 1926 aged 78.
Son Robert Lunn died 21st February 1950 aged 59.
Daughter Margaret Grant Lunn died 11th June 1961 aged 76 wife of late Murdoch Ross Miller.
Daughter Dollina K G Lunn died at Smerlie 23rd January 1969 aged 89.
Erected by his widow and family.
God is love.