Grave 554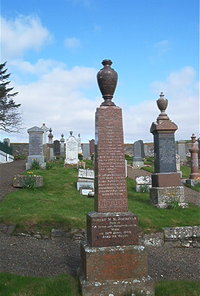 Erected in loving memory of.
L Cpl John Miller 5th Seaforth Highlanders died of wounds in France 5th August 1917 aged 34 interred in the British Cemetery Westbleteren.
He died for freedom and honour.
In loving memory of our dear mother.
Mother Flora Sutherland died 26th September 1944 aged 93 wife of Robert Miller of Houstry Dunbeath.
Robert M N Buchanan died 30th April 1969 aged 54.