Grave 102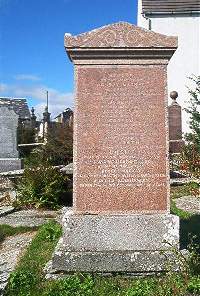 Sacred to the memory of.
Robert Mackay of Forse died 13th July 1858 aged 76.
Wife Elizabeth Sutherland died 24th March 1877 aged 90.
Son Joseph Mackay died 8th January 1835 aged 20.
Son Alexander Mackay died 8th July 1846 aged 33.
Son George Mackay died in India 6th June 1858 aged 34.
Son John Mackay died 7th December 1860 aged 49.
Robert Mackay died 8th Febuary 1865 aged 37.
Daughter Elizabeth Mackay died at Falkirk 8th April 1860 aged 44.
Daughter Mary Mackay died at Wick 31st May 1903 aged 80.