Grave 122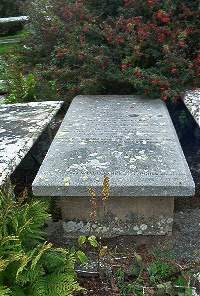 In loving memory of.
George Sinclair, crofter of Stemster, died 3rd October 1860 aged 70.
Wife Ann Henderson died at Johns Lodge Forse 20th November 1877 aged 75.
Daughter Catherine Sinclair died at Johns Lodge Forse 28th December 1888 aged 63.
Also:
William McLeod, crofter of Braehungie, died 18th December 1909 aged 88.
Wife Mary Sinclair died 25th November 1915 aged 82.
Daughter Annie McLeod died 6th August 1942 aged 67 wife of Andrew Dickson of Selkirk.
Stone renewed by William Henderson of New Zealand.