Grave 131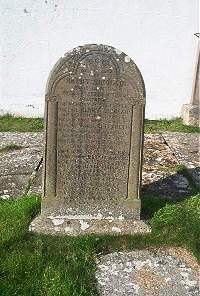 Erected by Henry Sinclair minister of the Presbyterian Church Canada in memory of his father.
Henry Sinclair of Balnabruich Dunbeath died 7th June 1866 aged 76.
Wife Elizabeth died 1st January 1870 aged 80.
Daughter Betsy Sinclair died 28th March 1867 aged 50.
Daughter Susanna Sinclair died 18th March 1837 aged 5.
Grandson Henry Sinclair died 26th October 1872 aged 21 son of George Sinclair.
also
Archibald Sinclair died at Knockally Dunbeath on 31st October 1891 aged 76.
Wife Margaret Ross died 15th April 1926 aged 83.
Son Private Archibald Sinclair of the Seaforth Highlanders killed in France on 10th April 1918 aged 29.