Grave 133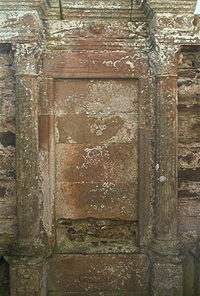 John Sinclair of Dunbeath, crowned knight, erected this monument to his
dearly loved ones namely, to his wife, Christian Muat, daughter of Magnus,
Lord of Boliquhoily who died prematurely in the bloom of life, and to his
daughter. This monument covers ladies turned in to ashes, whose names were
Gemma and Christian: the one was cut off early in life, the other in old age.
Their mother was the second wife of the knight of Dunbeath. There might have
been a more abundant list of the innumerable praises of both has this small
monument admitted. Learn hence, O Mortal, that the divinities who spin the
fatal threads of life, spare neither young nor old.