Grave 172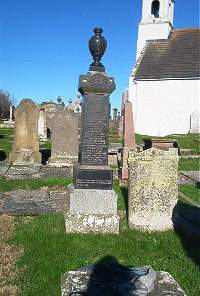 Sacred to the memory of.
William Sutherland, farmer of Achkinloch, died 21st June 1903 aged 82.
Daughter Christina Sutherland died 26th September 1882 aged 9.
Son Alexander Sutherland born 5th April 1857 died 7th April 1907.
Wife Margaret Gunn died at Braehungie 21st May 1922 aged 92.
Daughter Marjorie Sutherland, teacher at Bo'ness for 21 years, died at Edinburgh 26th Febuary 1929 aged 58.
We lay them away gently to gain strength, and beauty, for the coming of the Lord.
Son Marcus Sutherland born 1868 died 21st July 1903 interred at Brynnmawr South Wales.
Son John Sutherland born 1860 died at Latheronwheel 12th January 1927.
Brother James Sutherland died 14th March 1885 aged 69.
Sister Betty Sutherland died 10th January 1893 aged 78.