Grave 191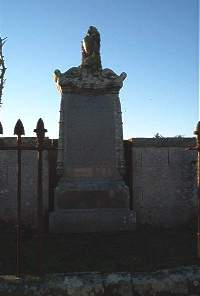 In memory of the.
Rev George Davidson minister parish Latheron from 1820 to 43 when he joined the Free Church of Scotland with all his congregation and continued to be their minister until died 14th August 1872 aged 82.
1st wife Maria Serena Robertson died 1st November 1827 aged 26.
2nd wife Angelica Chisholm Murray died 1st August 1851 aged 44.
Daughter Christina Elizabeth Davidson died 2nd August 1847 aged 2.
Mother in Law J Harriet Robertson died 22nd November 1855 aged 83.