Grave 205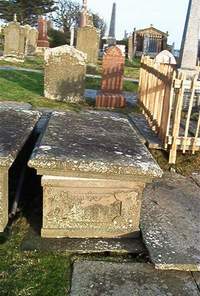 Here lie the bodies of.
Alexander Gair farmer of Altnadhu.
Wife Lucy Gordon died January 1854 aged 74.
Eldest daughter Christina Gair died 1833 aged 23.
Alexander Gair born at Morangie Tain 1772, removed to Sutherland 1796, married 1799, came to Caithness 1817, died 18th July 1854 aged 82.
Blessed with a commanding aspect, great mental force and ardour, richness of imagination, insight into character and readiness of speach in the Gaelic tongue and having had from his youth much Christian experience he dedicated his endowerments to Christ and was instant in season and out of season in teaching, reproving, rebuking and exhaulting in the service of his saviour for nearly thirty years he laboured among the Highlanders at Wick at the herring fishing to whom he was several seasons appointed as catechrist by the Free Church of Scotland and by the divine blessing gathered them out and formed them into the largest and most important Gaelic congregation in the world, salvation by the free grace of God in Christ Jesus and experience of soul through the working of the holy spirit formed the subject of his teaching.
Blessed are the dead who die in the Lord yea saeth the spirit that they may rest from their labours and their works do follow them.
Erected by his neighbours.