Grave 217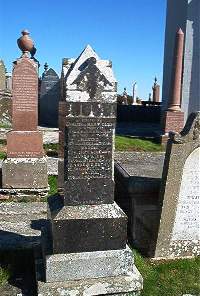 Erected by James and Mary Olson in memory of their beloved children who died at Thurso.
Maggie died 16th January 1869 aged 2,
Maggie died 11th August 1873 in infancy.
James Alexander died 24th May 1876 in infancy.
Andrew G. Sutherland died 25th May 1880 aged 19.
William Olson died 6th March 1884 aged 19.
Thine will be done.
Also.
Above James Olson died 7th June 1904 aged 77 years.
Wife Mary Gunn died 30th July 1920 aged 86 years.