Grave 237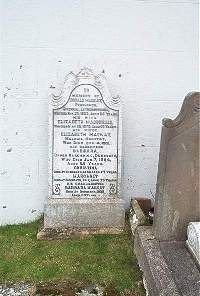 In memory of'
Donald Mackay, pensioner of Smerral, died 25th November 1853 aged 66.
Wife Elizabeth Macdonald died 13th May 1865 aged 66.
Niece Elizabeth Mackay of Mulbuje Houstry died 4th September 1881.
Daughter Barbara Mackay of Upper Balchrick dunbeath died 7th January 1894 aged 65.
Daughter Christina Mackay died at Dunbeath 1909 aged 77.
Daughter Margaret Mackay died at Dunbeath 1917 aged 78.
Granddaughter Barbara Mackay died at Dunbeath 1933 aged 63.