Grave 252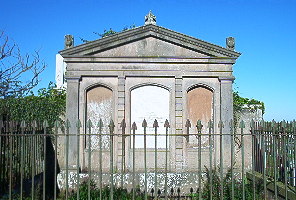 Sacred to the memory of.
John Sutherland Esq. of Forse, 9th Queens Royal Lancers, 56th Regiment of Foot, died 28th Febuary 1846 aged 26.
Deeply regretted by a wide circle of friends'
This monument is erected in a tribut of affection to a beloved brother by George Sutherland Esq. of Forse.
Also.
In loving memory of.
John William Sutherland of Forse, chief of the clan Sutherland, 1st Royal Dragoons and Imperial Yeomanry, born 16th May 1851 died 23rd March 1909.
Wife Louisia Henrietta born 30th October 1853 died 31st March 1934.
I am the resurection and the life he that believeth in me though he were dead yet shall he live and whosoever liveth and believeth in me shall never die believeth thou this. John XI,25,26.