Grave 261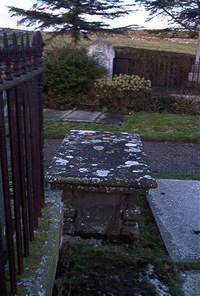 Erected by Donald Robert and Davidson Cumming of Melbourne Australia to the memory of their parents.
Robert Cumming, tenant of Houstry, died 12th March 1853 aged 66.
Wife Margaret Budge died 2nd April 1831 aged 40.
Son James Cumming died 28th March 1831 aged 15.
Sons William and Alexander both died 8th Febuary 1835 aged 13.
Daughter Janet died 2nd August 1816 aged 1.
Daughter Isabella died 7th June 1826 aged 2.