Grave 269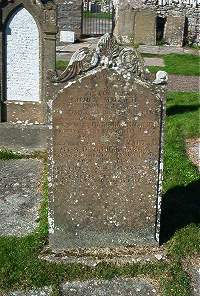 Sacred to the memory of.
John Miller, feuar of Lybster, died 18th November 1854 aged 83.
Wife Catherine Mackenzie died 7th Febuary 1867 aged 80.
Eldest daughter Mary Ann Miller died 8th January 1853 aged 38 wife of D Sutherland mason.
Who'ere thou art do this sad shrine revere Here rests a father good and mother dear Let no rude hands their slumbering dust annoy They died in hope to wake in future joy.