Grave 277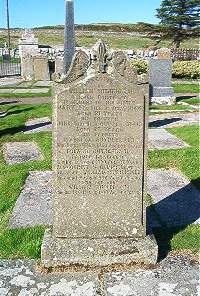 Erected by William Sutherland farmer Guidebest in memory of his sister.
Mary Sutherland died July 1844 aged 21.
Brother John Sutherland died 6th Febuary 1846 aged 27.
Mother Isabella Sutherland died 17th November 1853 aged 66.
Father Donald Sutherland, farmer of Braehungie, died 21st June 1870 aged 82.
Also.
Christina Campbell died 3rd March 1884 aged 59.
Husband William Sutherland died 19th March 1886 aged 69.