Grave 282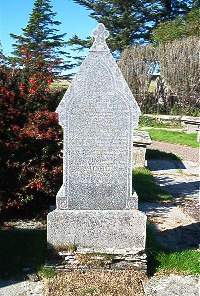 Erected by George Innes Rothesay in the memory of.
William Rose, tenant of Leodabest, died 2nd May 1893 aged 74.
He came to a knowledge of truth early in life and developed a right Christian charachter in close fellowship with saintly Alexander Gair and Donald Grant of this parish which character was eminently displayed in walk and conversation during his early pilgrimage he was predeceased by his much loved and devoted wife.
Wife Jane Innes died 18th December 1890 aged 72.
Blessed are the dead who die in the Lord.