Grave 294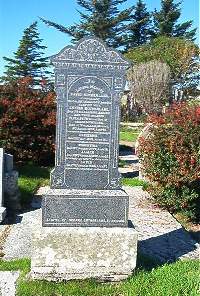 In loving memory of.
David Sutherland of Landhallow died 29th March 1898 aged 63.
Wife Esther Sutherland died 7th March 1895 aged 66.
Daughter Elizabeth Sutherland died at Vicarlands Moffat 8th August 1898 aged 40 interred at Grange Cemetery Edinburgh, wife of George Sutherland.
Daughter Catherine Sutherland died 31st May 1891 aged 31 interred at Rosebank Cemetery Edinburgh.
Daughter Robertina Sutherland died 18th January 1877 aged 16.
Son James Sutherland died 25th Febuary 1899 aged 31 interred at Ferintosh Cemetery.
Son David Sutherland died 7th Febuary 1896 aged 27 interred at Rosebank Cemetery Edinburgh.
Erected by George Sutherland Edinburgh.