Grave 307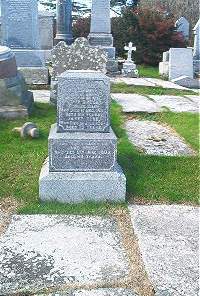 Erected by James Bruce, farmer of Blackcroft, in memory of his parents.
John Bruce, farmer of Niand, died December 1838 aged 65.
Wife Janet Gunn died July 1858 aged 73.
Daughter Jane Bruce died 11th June 1886 aged 63.
Son Robert Bruce died 20th June 1895 aged 77.
Son James Bruce died 1st November 1899 aged 85.
Daughter Mary Bruce died 2nd January 1907 aged 84.