Grave 346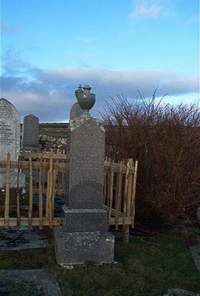 Erected by Niel Sinclair and his family in memory of his parents.
Neil Sinclair died at Houstry 2nd September 1856 aged 40.
Wife Ann Gunn died 21 Febuary 1897 aged 80.
Son Adam died 20th November 1855 in infancy.
In memory of.
Neil Francis Sinclair Sgt Maj PPCLI died at Frank Alberta Canada from illness contracted in France 22nd September 1917 aged 27 interred at Alberta Blairmore Cemetery.
Interred in Tout na Guail his uncle Robert Sinclair and his wife Janet Sinclair, his grandparents Francis Sinclair and Christina Campbel.