Grave 35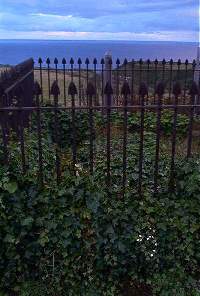 Erected in memory of.
Alexander Sutherland died 17th April 1843 aged 28.
Twin brother William Sutherland died at Sydney New South Wales on 24th October 1842 aged 27.
Brother John Sutherland MD ERCSE died at Lybster on 4th January 1848 aged 31.
A physician of high attainment and a humane generous disposition who practiced nine years in Bootle Cumberland and lived beloved and died lamented by all classes, his sun is gone down while it was yet day.
Brother Donald Sutherland died at Montreal on 15th September 1850 aged 32.
Father John Sutherland merchant of Lybster died 10th October 1862 aged 80.
Mother Jane H G Sutherland died at Lybster 9th September 1874 aged 87.
Unto thy name give glory for thy memory and for thy truths sake.