Grave 370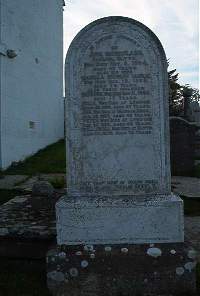 In loving memory of.
John Sutherland, farmer of Clyth, died 9th November 1884 aged 83.
Wife Isabella Stewart Mackay died 13th December 1889 aged 74.
Daughter Catherine Sutherland died 11th November 1863 aged 17.
Daughter Bella Sutherland died at London 29th March 1886 aged 27.
Son John Sutherland died at Madras India 25th January 1887 aged 46.
Son Peter Sutherland died at Lybster 25th Febuary 1888 aged 45.
Daughter Williamina Sutherland died at Clyth 23rd January 1930 aged 74.
They that sow in tears shall reap in joy.