Grave 41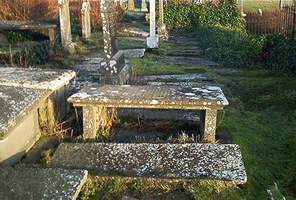 In Memory of'
William Gunn, farmer of Houstry Dunbeath, died 27th March 1858 aged 74.
Wife Elizabeth Sutherland died 28th January 1862. aged 63.
Daughter Elizabeth Gunn died 14th August 1843 aged 21
Daughter Janet Gunn died 23rd November 1854 aged 29.
Blessed are the dead who die in the Lord.
Erected by their two sons William and James.
Also.
Son James Gunn, farmer of Houstry, died 15th June 1907 aged 79.
Sister Ann Gunn died 27th November 1907 aged 69.
Brother William Gunn died at Houstry 29th April 1908 aged 83.
Half brother Alexander Gunn died 1st December 1893 aged 82).