Grave 53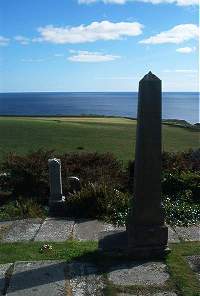 Erected by W and J Cooper in memory of.
William Cooper, farmer of Knockinnon, died 8th August 1836 aged 90.
Wife Janet Nicholson died 1st May 1835 aged 80.
Son James Cooper, Col Sgt 73rd Regt, died 4th May 1849 aged 57.
Daughter Elizabeth Cooper died 8th Febuary 1853 aged 63.
Sons John Cooper and Daniel Cooper died in New Zealand.
Also
Son Alexander Cooper, farmer Knockinnon, died 19th December 1867 aged 84.
Wife Barbara Henderson died 1st August 1858 aged 77.
Son James Cooper died in California on 6th September 1857 aged 33.