Grave 8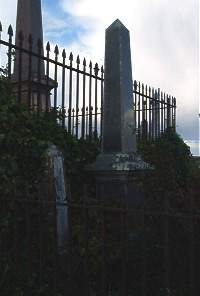 Erected by his congregation to the memory of.
Rev John Mackay, Free Church minister at Lybster, born 9th May 1818 died 11th May 1874.
Who fell asleep in Jesus in the 31st year of his ministry.
By this shall all men know that ye are my disciples if ye have love one to another sound in faith, in charity, in patience.
And over her grave inscribed to the memory of.
Wife Williamina Mackay died 31st December 1914 aged 92 daughter of John Sutherland and Henrietta Gordon Sutherland.
A dear daughter, sister, wife, mother and friend who was beloved and admired of all for her serenity, insight, kindness, purity and grace of heart and faith and life.
On the last night of the year of her Lord 1914 slept into eternal light.